This news is brought to you by cambodianfootball.com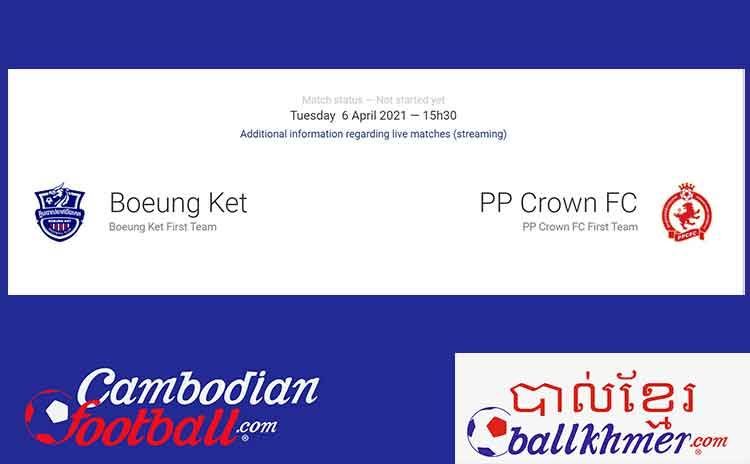 Boeung Ket FC vs PP Crown FC a balanced match to see?
Boeung Ket FC PP Crown FC duel for the 2021 title?
The "clásico" of Cambodia Championship football 2021, Boeung Ket vs. Phnom Penh Crown is one of the most watched C-League TV and internet matches by fans. The form index gives the advantage for PP Crown FC with a 6 out of 6 points while Boeung Ket FC 0 out of 3 points, with only one game played. The sports betting sites give a slight % higher chance of winning than Boeung Ket FC. Make your predictions!
Stadium
Full stadium address
Venue: Cambodia Airway Stadium
National Road 1, Phum Boeung Chhouk, Sangkat Niroth, 12253 Phnom Penh, Cambodia
The Coaches
Coach: Kim Pheakdey
Coach: Oleg Starynskyi
Players
The Players
Player to watch: 21-year-old Colombian striker Adres Nieto Rondo with two goals and three assists to his name in the last two games.
Top goal scorers
Nieto A. 2 (2 goals)
Souza M. 2 (2 goals)
Chanpolin O. (2 goals)
Samnang R. 1 (1 goal)
Brak T. 1 (1 goal)
B. Kok (1 goal)
V. Gryshyn (1 goal)
Media coverage
BTV
Cambodia Football Championship 2021
The Cambodia Football Championship 2021 or "Cambodia Premier League 2021" brings together the 13 best first teams of Cambodian national clubs who compete twice during the competition, at home and away, the title of champion of Cambodia 2021, the season usually runs from February 2021 to October 2021.
National competition level
The C-League is the highest level of Cambodia's soccer championships. This is the equivalent level of competition of Belgian Division 1, French Ligue 1, English Premier League, Spanish Liga, Italian Serie A.
Challenge of the competition
Qualification for the AFC Cup (Asian Football Confederation)
Awards
List of Cambodian championship titles from 2008 to 2020
Title holder
Boeung Ket Angkor (Season 2020)
Most successful club
The most successful Club is currently, Phnom Penh Crown Football club with its 6 league titles, Boeung Ket FC (4 titles).
2020: Boeung Ket Fc
2017: Boeung Ket (Boeung Ket Angkor)
2016: Boeung Ket (Boeung Ket Angkor)
2015: Phnom Penh Crown
2014: Phnom Penh Crown
2012: Boeung Ket (Boeung Ket Angkor Rubber Field)
2011: Phnom Penh Crown
2010: Phnom Penh Crown
2008: Phnom Penh Empire (Phnom Penh Crown)